reutlingen 11. december 2004
Dozy, Beaky, Mick & Tich
Review and photos by Sandy
[click on the pictures to enlarge]
See also Freiburg, 10. December 2004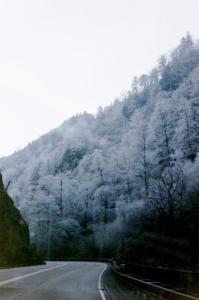 After a great show the day before and a short night, we set out on the road towards Reutlingen, driving through the Black Forest - really a dreamland with those frosted trees with a bit of mist rising in the valleys. What a beautiful sight – especially when later the sun was shining from a blue sky.
Shortly after noon we arrived at our hotel in Reutlingen. After checking in I took it into my hands to make sure here the bar would stay open longer this night – it was incorporated in the main hall and looked very inviting. The hotel manager was really nice and said he would see to it that someone would be down here all evening.
We relaxed in the lobby and when the Rattles arrived it was a funny welcome greeting from us: "See: the chorus travelled along !". They laughed and said they were glad to see at least some known faces. When the Dozies arrived I was able to deliver my last package of biscuits to Trevor (Dozy) when they came down again. Anyway, after some hot drinks everyone went downtown and we joined Tony for a short trip through the city since it was still more than enough time.
We had a lot of fun, especially in the department store, looking at some winter clothes, where my driver Necdat was making eyes on everything green – Tony could not understand him favoring that color, especially the bright green shawls - but how we laughed when he admitted that when he was 17 Tonys favorite color he had been wearing was pink !
Well, in the evening we walked over to the hall, since the hotel manager had told us it was only a 15 minute-walk, but it felt much longer, probably due to the wet cold weather. The hall was as comfortable as the day before. Only change this time was that they had put up tables until 3 meters in front of the stage. It was an even smaller hall than the day before, but in the end it was almost completely filled up.
This time the Rattles were the starters and the atmosphere was phantastic from the beginning, although most people remained on their seats (the catering must have been really good I guess). A real highlight was when as a last encore they did a wonderful version of Ave Maria ! Goosebump time.
After that Dozy Beaky Mick and Tich stormed the stage.
…because Tich just went over, went down on his knees and simply put his arm around one of Beaky´s legs and continued his solo ! What a sight !
See additional photos of this show on page 2
They really had been phantastic this night, with a lot of fun on stage. The other fans left then for the hotel, but Anja, Necdat and I stayed since we wanted to see Sailor who would end the day - and were a great finale, with all the hits and a few show surprises to spice it all up. Only pity had been that due to their Netherlands tour at the time they had not brought the famous Nickelodeon.
The Dozies watched them for a couple songs as well from backstage, but then left for some drinks back in the hotel, where we joined all the bands after the show.
This night was not as quiet as the one before - maybe because we had brought our guitars down and played some songs. Tony soon snatched mine and after showing me some tricks for my practicing he started playing a lot of Beatles songs again, entertaining the whole bar, even played the Dozies´ "Here´s a heart".
Meanwhile Tich and John laughed a lot about the rare 1974 single "She´s my lady", because they never knew that this particular photo had been used as a front cover - where Tich was looking just like an angel - with his long blond hair being illuminated from behind... Later both laughed a lot about Tony - who more and more couldn´t keep a straight face during the songs he played... He clearly doesn´t take alcohol very well.
Eggert and Manne from the Rattles joined in here and there - and Tony was having more and more fun with each song - surely due to his third glass of wine. He even burst into a fit of laughter when he sang "Let me be your teddy bear" - looking at John all the time ! It was a phantastic mood down there - and nothing could stop Tony: neither the first calls from upstairs to be a bit quieter nor the lost plectrum - This little piece of plastic had somehow been snipped through the hole into my guitar - it was a hilarious sight: first Tony then even Necdat shaking my poor little guitar over their heads to get that little thing out ! What a pity I had already used up my last photos... Well, after another request to get a bit quiter, we packed up and at least I retired soon after.
Well, so an exhausting but great weekend found its end, and in the morning we just wished the Dozies fine holidays and they reminded us to drive carefully - since we all had a lot of hours ahead of us.
See additional photos of this show on page 2
See photos from N.Hansen of this show on page 3
See also Freiburg, 10. December 2004
Back to Concert Reviews Overview
[Last update of this page: 22-Apr-07]