DDDBMT Phase II: Storytellers (1967-1968)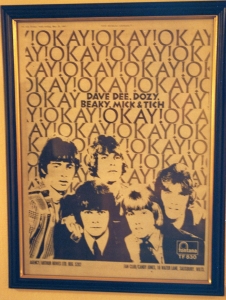 After being shaken up by a chart position outside the top ten with "Touch Me Touch Me" Howard & Blaikley started thinking about a different approach regarding the releases of the band. Although the next single "Okay" had the well-known verve of the previous hits it also featured a continental, somewhat gipsy-like sound. Tich was given a balalaika for the song and with all that stampeding on a wooden platform that Rowland had put up in the studio it turned out one of their wildest recordings. It did set the band back on track though with hitting #4 in UK and #5 in Germany in May 1967.
After this plus all the publicity that had followed their Golden Otto award they started to perform in bigger and bigger halls, around England, Germany, Australia etc - though sometimes fondly recalling the memories of the old club times.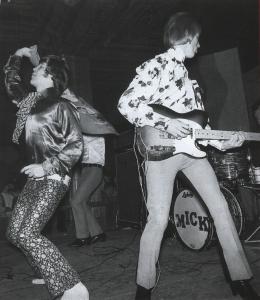 Even in the big halls with more than 10.000 People they still played with a 200- or 400-watt P.A.! At the time they actually were playing a wild 90-minute set (while the Stones played only 45-min-stints) and were still throwing each other around onstage. It made the audience wild. They even needed some bodyguards - yet the hysteric fans were still able to rip off their garish clothes: in retrospect it was a gigantic crazy party!
Back in the studio they embarked on a series of utterly unique, complex and ambitious songs, cleverly written by Howard & Blaikley again. They had more influence on the sound arrangements now, so they started to augment the basic personnel with string and horn sections, brass bands and sound effects. Their acoustic daringness knew no limits -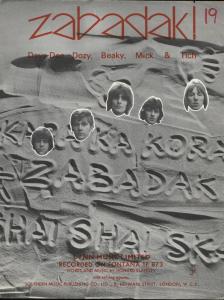 for the upcoming single "Zabadak" they used real African drums and jungle sound effects - and even invented their own 'gobbledegook'-language for the song! Just a pity that the original recorded rhythm parts could not be used in the final cut - due to the midday heat those African drums had re-tuned and they had to record everything from start but were never able to recapture the original sound.
Nevertheless the lush tropical sound combined with multiple vocal layers (with members from the Herd and Family Dogg in the chorus) made the song very popular - The band's second winning streak commenced with it in Autumn 67 when the single shot to #6 in Germany and even #3 in UK. Even in the USA it became their only minor "hit", staying in the charts for 6 weeks, hitting #52 - finally some moderate success there.
The flipside was a stunning psychedelic piece written by Dave, Dozy and Beaky once more, with Gregorian chants punctuated with wah wah. Dave Dee regarding their own songs: "Between pop and heavy metal at that time there was this style called psychedelic music - some of our songs were of that type. At the time we felt that the band was able to do more, even if those mega hits were interesting and made fun. But to get our songs on A-sides was out of the question."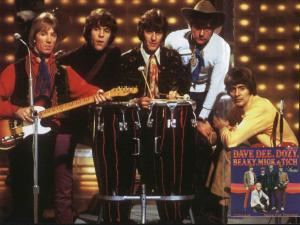 The opinions regarding how much control Howard & Blaikley actually had over the songs are controversial - usually they would come forward with an idea, play a weak demo (that they had done themselves) to Jack Baverstock who then would decide whether or not the song would be recorded - but they extended their influence on the arrangement of the songs in 67 - yet all the hits were still discussed with the band and the boys also tweaked and sometimes changed things themselves, except for the orchestral parts naturally.
Dave regarding the recording sessions: "We were a bit na´ve though and did not realize the power of the band. We recorded all songs in 3-hour sessions. Two and a half hours were spent on the A-side so that only half an hour was left for our flipside."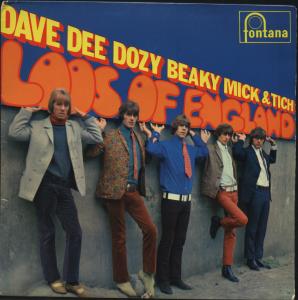 So Howard & Blaikley were more or less free to write whatever they had in mind - even if it was a praise of England's lavatories... "Loos of England" had previously been on their second album without raising much attention - but when it was released as title song of their only UK-EP in late summer ┤67 some reviews said that songs like these revealed the bands "brash and amusing vulgarity"!
Autumn '67 saw an interesting music happening in Germany: After his regular gig Jimi Hendrix was jamming around in a Frankfurt nightclub - and was actually joined by Dave Dee & Beaky on stage! Beaky was on drums and Dave on vocals, Noel Redding - the actual bass player was on lead guitar - with Jimi Hendrix playing bass - right handed! Some piece of rock history!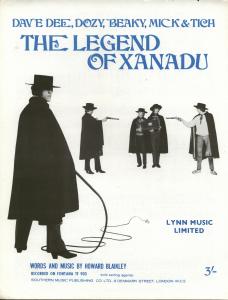 In early '68 the group at long last reached its peak - with the first of their mini-operas - a fresh kind of song, with lyrics that had a narrative thread - a style that actually continued in the following two singles that year. But of all three, "The Legend of Xanadu" became the most famous one - rising fast in the charts everywhere - and in February 68 becoming their first (and only) #1 hit in UK!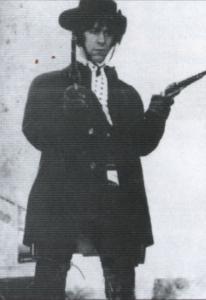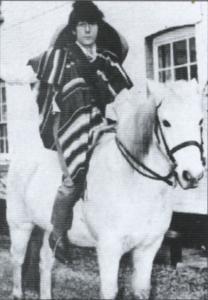 It was a sophisticated, forceful song with flamenco and 35-piece orchestra - but most would never think that it was cut virtually live in 30 minutes, which ended an otherwise calamitous session with a novice engineer! All except for the backings and the whip noises that is.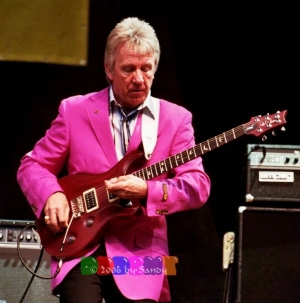 The whip noises were - and still are today - the hallmark of the song. They were created with a complicated technique: they used a pedal steel guitar, with a metal bar zooming down one string very fast, producing that typical whack-sound (similar to what Tich is still doing live with a bottle-neck on his guitar, just the other way around) and then just before that bit of sound they added two wooden blocks clapped together. This was mixed together with a lot of echo and then reversed onto a quarter inch reel - this then was spun into the recording during each chorus - something like today's sampling techniques. But in fact each whip sound is unique because it had to be put in manually during the whole recording!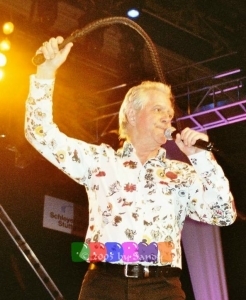 But what were those complex technical details in comparison to Dave actually cracking a bullwhip on stage! The audience still flips over this feature at every show, even up to now - just Dozy might look back to it in pain - during rehearsals for a show of "Top of the pops" Dave actually hit him!
The hit was followed by a 26-show-tour through Great Britain - alongside the Bee Gees, and with a great prestige-gig in London's Royal Albert Hall. By now their record promotion and live shows depended more on costume and drama than all the comic capers of the former years.
Some might say that it was a problem that many elements of the records were more or less un-reproducible live on stage - frustrating? No - Tich: "Today when you have a hit-record with string arrangements you simply put a keyboarder on stage. In the 60s people had the songs in their minds when they saw you live - you would perform it live only with three or four guys instead of the 60-piece Orchestra of the studio - and they did the rest with their imagination".
In May '68 their 3rd studio album "If No One Sang" was released. It took its wistful name from a composition that had been divided into two parts enclosing the other songs on the album. Actually, a poetic letter from a music-loving fan had inspired the lyrics of this ballad!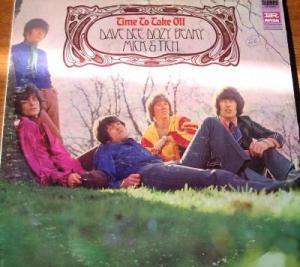 On the album, even Dozy featured twice on lead vocals: "Mama Mama" and "Where From, Where To", a very strong song from Howard & Blaikley. It also contained a group composition again: a fun-song called "Mrs. Thursday" - and finally here one of their old times stage favourites found its way onto vinyl: "If I Were A Carpenter". In the USA the album was released as "Time To Take Off" - after the track that was penned by Albert Hammond. But whatever its title it turned out their strongest album ever! An absolutely high quality mix of songs, mostly written by Howard & Blaikley. In Germany it rose to #10 in the LP charts. Interestingly, in the USA the only single with an A-side that was actually not written by Howard & Blaikley was released: "Breakout" by Illingworth/March.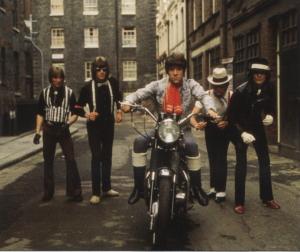 Shortly after the album their next 'mini-opera' hit the streets: "Last Night In Soho" - a darker song inspired by all the talk about that district - gangster activities, x-rated shows etc - telling the story of a young man tempted back into crime on the eve of his marriage - in July '68 it reached #8 in UK and still is Dave's favourite song - with its edited voice recordings it was perfectly capturing the man's emotional predicament and carrying the story to a rousing climax - their 8th top ten hit!
By this time they were gradually gaining more recognition among the progressive rock scene. And in late September they went off to a 4-day concert in Vienna with soul and R&B-stars like Ray Charles and the Supremes. They also recorded an EP with those: A promo-song for Coca-cola: "Things Go Better..." The EP was a limited promo release and is still regarded a rare treasure. On the flipside is an amusing additional song from the Dozies: "I'll Love You".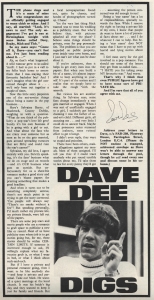 What else did the boys do? Steve Rowland likewise produced Howard & Blaikley┤s second band, the Herd. Dave Dee and the others would occasionally sing some backing on their records, while members of the Herd turned up in the back of some of the Dozies records. Dave also ventured into writing a regular advice column in the teenage magazine "Fabulous 208".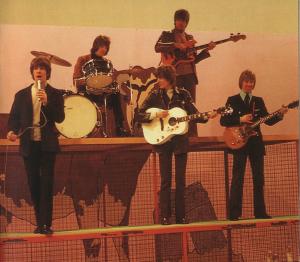 A wild cruise through the various styles made Howard & Blaikley think that for their last single in late '68 they could try a song of the Beach boys-type sound. "Wreck Of The Antoinette", dealing with a sinking ship - with Dozy reciting Shakespeare for the intro, reached #14 in the UK.
Although Xanadu, Soho and now Antoinette were Rowland's most elaborate and dramatic productions, the boys were becoming dissatisfied - the main sound of the band had been lost, hard drumbeats were replaced by more and more harmony-oriented chorus parts and the low chart position of this last single was a sure sign that interest in this essentially hit-single-oriented band was beginning to decline.
or jump to...

[Last update of this page: 30-Apr-07]