DBMT again, short reunions with Dave, and Marbella (1979-1989)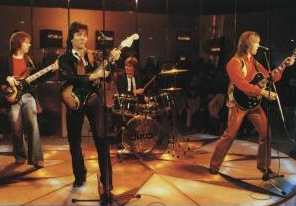 After Pete Lucas had joined to become Mick #3, the band needed to produce at least some singles now to show that they were back, and so Dave Dee helped them again in late '79, producing the single "You've Got Me On The Run" with Beaky on lead vocals, penned by Peter Mason. WEA did not do much promotion for it and actually it was only released in Germany and Holland where it had some impact. In Germany the single got good airplay and there was one club in Duisburg where they were performing often and the fans in the front row greeted them by humming that song all the time!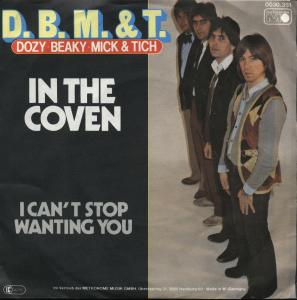 In 1980 DBMT then released another single, "In the Coven" with Pete Lucas on lead vocals, a tantalizing song with bizarre lyrics and the bands usual swirling vocals.
In the meantime Dave Dee had joined the other side of the music business as Head of the Artist & Repertoire department of WEA Records in England, signing such artists as Boney M, AC/DC and Gary Numan.
He liked the job but at one point got the idea to start his own independent label. It was quite a venture, and so in 1980 "DD Records" (Double D) was launched. How could he know it was one of the worst times to do that? After the first release "Stacks of Tracks" by the Dance Band a lot of things did not work out. Although the label released some good material it was not very successful commercially and after three disastrous years Dave gave up.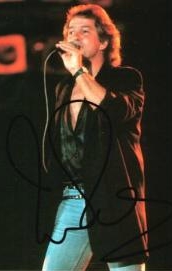 His options now where to take up another employment on a regular 9-to-5 basis or to get back on stage again. Seeing as how many people had approached him asking if he would do some shows again and how DBMT did quite well, he decided to perform again.
In July ´82 DBMT were undergoing another change in personnel, since Pete Lucas wanted to leave the band. Beaky knew John Hatchman who had sung in a band in Switzerland and brought his name up for an audition. The deal was done, John joined the band as Mick #4, but primarily on vocals, and Beaky stayed on drums for a start, but over the course of time this turned back to "normal" with Beaky on guitar and Mick on drums.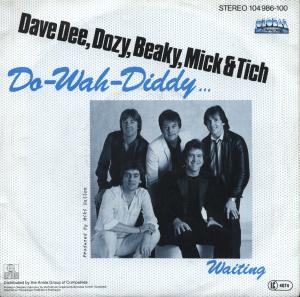 He already featured on the band's next two singles, "Do Wah Diddy" (82) and "Stayin´ With It" (November 83) - a song that should have been a hit, but somehow never made it. John and Dave are taking turns on lead vocals there. The backside of both singles was even co-composed by John.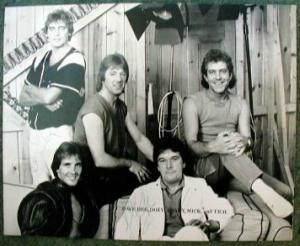 DBMT already had some experience with gigging in Germany these days and when they asked Dave if he wanted to join in for a couple of shows it worked! In September 82 they joined a lot of other British bands to celebrate BBC Radio 1's 15th anniversary in London. This "Heroes and Villains" concert was recorded and released on disc later, with DDDBMT performing "Legend of Xanadu". The song was also released in Spain as a separate single in 83.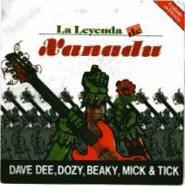 They also did a charity concert for autistic children in September 82. And what had started as an idea for two or three shows rapidly developed into regular gigs. Dave was still the born front man and attracted the audience, where the band functioned perfectly and the old humorous spirit was back again. Dave agreed to remain in the band on part time basis. Usually DBMT would start the show alone, often with a pun in Dave's direction, and they even presented some new songs on stage. For the second part of the show Dave then would join them to play the old songs.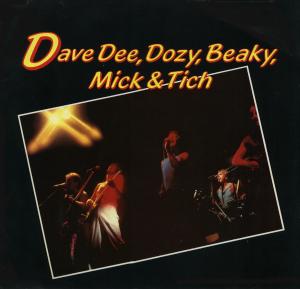 But for the record market they chose not to venture out on thin ice again, but play it safe with an album release with their old hits - freshly recorded in the way they were presenting them now on stage. It worked - the songs sounded amazingly original. The album was released in 1984 on Heartbreak Hotel Records but mostly sold locally after gigs.
Another rare treasure is a single that only made it to a couple of demo copies since it even proved too outrageous for DDDBMT, being a soccer anthem. The band decided not to use their usual name - "Here We Go" was attributed to "The Boys" (although they are all named as composers of the song).
In summer 1986 the last official single of Dozy, Beaky, Mick & Tich was released: "Matthew and Son", a cover of the old Cat Stevens song. But since there were probably only 200 copies sold at the time it is hard to find these days - but those were the final struggles regarding original song releases. Over the course of time Dozy wrote a lot of songs, and in the Eighties he continued trying to get some record companies hooked, but the record labels turned them down, times had changed. Since then the band did only a few demos and also dug up some old, previously unreleased tracks.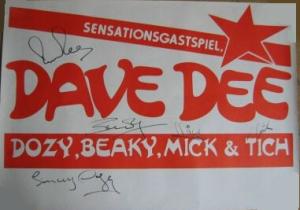 Live everything looked much better though - their heavy tour schedule now took them not only around Germany and Holland, more or less they now performed all over Europe, with a lot of gigs in Spain - which led to a momentous decision: They were booked to play the Christmas season at a Marbella hotel - and at some point Beaky thought it would be fun to own a little club there and perform there on their own schedule.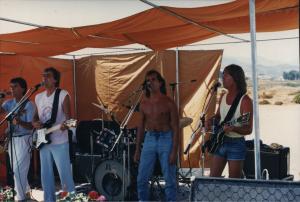 The idea grew to a serious task and in 1987 Dozy, Beaky, Mick & Tich took their families and moved to Marbella!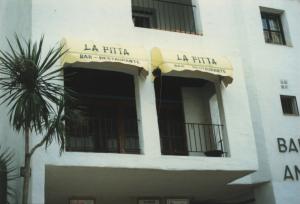 They leased and organised to run a small bar in Puerto Banus, took turns as disc jockeys and performed themselves two times each night. A lot of celebrities turned up in that nightclub, including Kevin Keegan, James Hunt and Rod Stewart. A year later they took on a bigger club and worked the same scheme for another year.
or jump to...

[Last update of this page: 01-May-07]